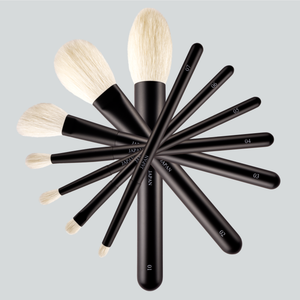 The finest complete set
All 7 of our finest brushes are specially designed to bring the best beauty experience to the community.
Handcrafted in Kumano, Japan.
100% natural premium goat hair.
HIRO 01 Face Brush - a soft, elastic, and dense face brush of a unique candle flame shape. It can hold up a good amount of pigment and distribute loose powder evenly on the face.
HIRO 02 Cheek Brush - a silky soft and dense cheek brush that lays down powder evenly for a smooth, natural-looking glow.
HIRO 03 Highlight Brush - an angled highlight brush with ultra-soft bristles which give a gentle feel for contouring.
HIRO 04 Crease Brush - a tapered shape, medium-sized crease brush with ultra-soft bristles for effortless blending.

HIRO 05 Eyeshadow Brush - a lightweight and versatile eyeshadow brush, with a slightly tapered shape.
HIRO 06 Eyeshadow Brush - a versatile, dense but soft shading brush. It is small enough to hold a good amount of pigment into targeted areas using wiggle strokes.
HIRO 07 Pencil Brush - a pointed and precise pencil brush designed for finer work around the eyes.